96. Not My Jesus w/ Bob Fabey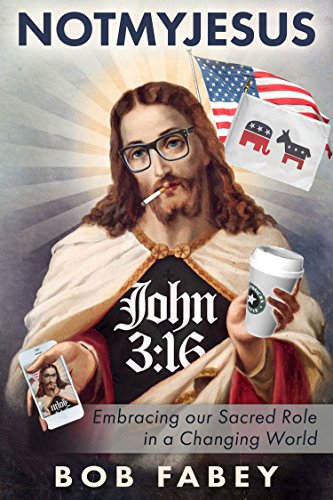 Bob Fabey joins us to talk about his book "NotMyJesus: Embracing Our Sacred Role In a Changing World". Find out which image of Jesus you've been following. You should definitely check out his book. Also: How did Amy Grant (you heard me!) change his life? Why does he practice Brazilian Jiu-Jitsu? What character from the Bible would he want to roll with?
Check him out at: bobfabey.com & his podcast "Third Space"
From the back cover: "Jesus had dreadlocks! Jesus had blue eyes. Jesus would never say THAT! Everyone claims to know something about Jesus. But they are likely incomplete. Jesus was judgmental! He called people names, and made fun of others! If you don't know him this way, you should. Understanding who he is—and who he isn't—is the key to knowing ourselves and how we are to live. Not My Jesus is a humorous, yet poignant look at faith, culture, and life. Using everything from movies to Tweets, Bob Fabey helps us to think about how we view Jesus, the strengths and weaknesses of each approach, and how we are called to live. In this book you will... • Identify the way you and others primarily view Jesus • Get a Biblical overview of who he really was (it's not what you think!) • Discover the sacred role you play • Gain practical ways to live in light of who Jesus was Are you ready to confront your Jesus and embrace your sacred role?"
What about Bob? Bob Fabey is an Anglican priest with over 20 years of ministry experience with a variety of organizations. He holds a Master's Degree in Divinity and a B.A. in History from the University of Montana. You can find him speaking at retreats, conferences or in churches. He does workshops and keynotes. He has traveled extensively including Africa, Russia, and Central Asia. Bob has a deep passion to see Christians live according to their faith and speaks, mentors and writes to that end.
Bob resides in the greater Phoenix area. He loves to travel and hang out with is wife and kids, practice Brazilian Jiu-Jitsu, and drink large amounts of coffee.
We want to hear what you think!
-Subscribe to Bros Bibles & Beer on Apple Podcasts
-Rate and review us on Apple Podcasts!
-https://www.facebook.com/brosbiblesbeer
-https://twitter.com/brosbiblesbeer
-https://www.brosbiblesbeer.com
-Instagram: @brosbiblesbeer
-Email: brosbiblesbeer@gmail.com

Bros Bibles & Beer is: Mr. Jeff Pearson, Mr Scott "the scoot" Hulbert & Mr. Zack Krater
Edited by: Zack Krater

Find us wherever fine podcasts are distributed. Oh, and tell a friend!
Grace. Peace. Cheers!